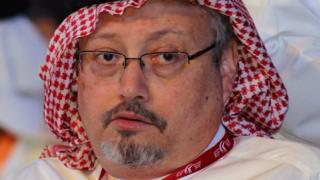 Journalist Jamal Khashoggi's murder was "premeditated", Saudi Arabia's public prosecutor been quoted as saying by Saudi state media.
The evidence for this came from a joint Saudi-Turkish task force, broadcaster al-Ekhbariya said.
It also reported that prosecutors were questioning suspects as a result of the joint investigation.
Saudi Arabia had initially denied all knowledge of the writer's whereabouts when he went missing on 2 October.
The kingdom has since admitted he was murdered at the Saudi consulate in Istanbul, blaming a "rogue operation".
The official Saudi Press Agency reported that Thursday saw Crown Prince Mohammed bin Salman chair the first meeting of a committee to reform the state's intelligence services, which was set up following Mr Khashoggi's death.
Saudi Arabia also sacked two key advisers to the prince, and arrested 18 people.
Prince Mohammed vowed to punish those responsible on Wednesday, but media reports have quoted Turkish security sources as saying the operation was run by a top aide to the crown prince.
Saudi Arabia's latest announcement follows US media reports that CIA director Gina Haspel has heard audio recordings believed to capture the journalist's murder.
Ms Haspel was allowed to listen to the audio during a visit to Turkey earlier this week, reports said.
Soon after the murder on 2 October, Turkish media quoted officials as saying they had audio recordings of Khashoggi's interrogation and death, but gave no details about the contents or how the audio had been obtained.
Turkey plays its hand
By Mark Lowen, BBC Turkey correspondent
Turkey has played its biggest card yet in the aftermath of the Jamal Khashoggi murder, reportedly passing the recordings from inside the Saudi consulate, said to reveal how the journalist was killed, to CIA director Gina Haspel.
She is due to brief President Donald Trump later on Thursday.
Lurid details from the recordings have been steadily leaked to the Turkish media – screams, torture, dismemberment of the body: proof, Ankara says, of the meticulously planned operation.
That has now been corroborated by the Saudi prosecutor, who says he believes – based on evidence provided by Turkey – that the murder was premeditated.
The question remains if it can be directly traced to the highest levels of the Saudi state. And if so, Turkey would expect the US government to harden its line towards Riyadh to hold those who gave the orders accountable.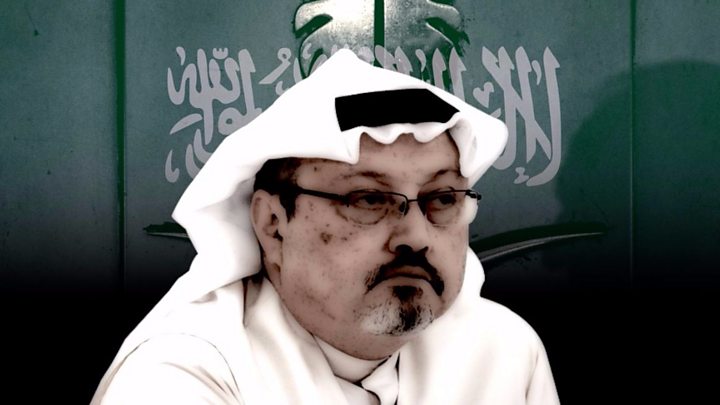 What's the latest with the investigation?
There is still no sign of the body.
The latest focus appears to be on a well in the garden of the Saudi consulate building.
As with much of the investigation there have been conflicting reports. The Anadolu agency initially reported the Saudis had denied permission for it to be searched, only for broadcaster NTV to say later that permission had been given.
On Tuesday there were similar conflicting reports over whether Khashoggi's belongings had been found in suitcases in a Saudi diplomatic car.